Who doesn't love a weekend full of family and food! I know I sure do!  But with that tends to come overindulgence, less activity and extra treats. So I wanted to provide you with some tips and tricks to help you be more mindful, stay in control and not feel like the weekend has to be a write off.  A turkey dinner doesn't have to come with a side of guilt.
So lets start with Portion Control,
I'm sure most of you know roughly how much you should eat but do you really listen to your own advice?  Probably not as much as you should. Counting calories and tracking your food can be tedious and annoying, especially during a festive holiday when there is all those extra temptations right in front of your nose.
I'm going to give you some simple tools to measure your portions without having to plug them into your phone or a tracking app. If you follow these for each of your meals you won't be going over board and should feel satisfied. Another good way to control your food intake is to drink 500ml of water before every meal. Not only will that help ensure your water intake for the day but it will also lead you into the meal in a not so over whelming state of hunger. Drinking plenty of water will help you reach satiety.
MEN
Protein= 2 palm size portions
Carbs= 2 cupped handfuls (cooked)
Veggies= at least 2 fist size portions
Fat= 2 thumb size portions
WOMEN
Protein= 1 palm size portion
Carbs= 1 cupped handful (cooked)
Veggies= at least 1 fist size portion
Fat= 1 thumb size portion
Next, Mindful Eating
Be present and in the moment when you are eating. I know it's not always as easy as it sounds, especially if you are at a party, chatting and socializing while enjoying a platter of food, but you can start practicing now. Being mindful with your snacks and meals is a habit you need to work on daily. The more you work on it the more it will become second nature and you will always be aware of what you are putting on your plate and eating. Mindless eating is one of the biggest causes leading to overeating and unnecessary weight gain. Here are 4 mindful solutions to stop and avoid mindless eating:
1. Breathe. How many times have you felt like you didn't even take a breath and just inhaled your food? Slow down and do a quick breathing exercise to focus and become aware of your body and surroundings. Use a slow breathing practice to re-center and reconnect with yourself before you eat.
2. Question your hunger. Ask yourself, "Am I really hungry?" A lot of the time people eat based off of habit, time of day, boredom, or just in this case, when a bunch of food is placed in front of you at a friend or family member's house. Ill be the first to admit, my favourite spot at a party is beside the food and its pretty easy to talk and mindless snack on everything in front of you, so instead of putting yourself on the usual autopilot while you eat, tune into your physical signs of hunger that will help you decide if you are actually hungry or not.
3. Use your senses. Tune into all your senses while you eat. Be in touch with the process of eating and your body's reaction to the food. Be mindful of each bite.
4. Don't be afraid to say no. Too many people feel a need to say yes and eat things just because the host put them out. To be honest, I really don't give a shit who eats what at a party I host! As long as people are having fun and are in good company, no one should really care what you eat or don't eat. So don't use peer pressure as a reason to eat something that deep down you don't want to! If they are your friend or family, they should respect your decision to turn down something as delicious as it may be. Especially if you know that if you eat it you will lose all control, say NO.
Next up, Before you head to the gathering
 Having fun doesn't have to feel like a debauchery on your healthy lifestyle. Before heading out to the friend and family gathering this weekend or before people arrive (if you are the host), follow these tips:
1. Do not go hungry. This is just a recipe for disaster, also known as over eating. Make sure you eat BEFORE you go or before everyone arrives. Have a meal, or even a good snack so that you aren't feeling famished and eager to run straight to the food table as soon as you get there.
2. Contribute something healthy.  If you are in charge of bringing something, plan something healthy and something that is part of YOUR nutrition guidelines. Don't just opt to the easy unhealthy dessert. Eating healthy doesn't mean eating boring. There are tons of healthy delicious recipes out there, that will taste just as good as the ones filled with butter or sugar. Just take some time to research and plan what you are going to contribute instead of leaving it to the last minute where you are most likely to make and bring the least healthy option. Bringing your own nutritious dish will ensure you have at least one thing you can eat and feel good about, and it might just make you the hit of the party!
3. Choose a small plate. Before you go up to the smorgasbord board and begin filling your plate, grab the smallest plate. The size of your plate a lot of the time depicts how much you eat! If you choose the biggest plate you will probably fill it up, eat it all , and then feel too full. So, grab the smallest plate and allow that to be your biggest option. You will probably realize the smaller plate is a satisfying amount and won't leave you feeling like you need to be wheeled out of there.
4. Give yourself some rules/boundaries. Know your limit and set some guidelines for yourself before you get there. Maybe you will only allow yourself only 2 drinks and 1 small dessert instead of going into it with no game plan and have as much as you want. This doesn't mean you have to be  super strict and not enjoy all the event has to offer, but setting yourself some boundaries will allow you to be more aware of what you are consuming.
Last but not least, plan your activity.
Ok so maybe you allowed this weekend to be your weekend off the gym, or maybe you don't ever go to the gym on the weekends but when you know you are going to be eating a little more than usual, you should plan something. So plan a light walk once you are done your meal. We all know that after a big dinner the only thing you want to do is lay down and nap…until desert. This time, plan a walk to help things digest, get some fresh air and to get in some easy movement. You won't regret it! and you might not feel the need to put on your sweat pants directly after the meal.
I'm going to be doing a big hike with my fiancé on Sunday after a day full of eating, drinking and being merry! Nature is the best medicine for low energy, full tummies and you are guaranteed to feel rejuvenated and happy
Now for some yummy recipes to try if you like!
I've picked 3 to share with you!
Enjoy one or all 3. Let me know how they turned out
SWEET POTATO AND CAULIFLOWER MASH
2 pounds sweet potatoes
1 pound cauliflower florets
3 tablespoons milk of choice
¼ cup plain Greek yogurt
½ teaspoon garlic powder
Salt and pepper to taste
Fresh chopped parsley for garnish

Instructions

Peel and cut sweet potato into 1 ½ -inch chunks.
In large pot with steam basked, steam sweet potato and cauliflower with 1 inch of water in bottom of pot. Vegetables will be ready in about 10 – 12 minutes, or when fork tender.
Place in large bowl and mash the potato and cauliflower with the milk. Stir in the Greek yogurt, garlic powder, salt and pepper. If too thick, add milk 1 tablespoons at a time, until desired consistency is achieved. Garnish with chopped fresh parsley.
Serves  4 – 6
HONEY ROASTED BUTTERNUT SQUASH WITH CRANBERRIES AND FETA
Ingredients
1 large butternut squash, peeled + chopped
a hearty drizzle of olive oil [approx 1-2 TBSP]
salt, pepper, and garlic powder, to taste
2 cups fresh cranberries
2-3 TBSP honey [or extra, to taste]
1/4 cup finely crumbled feta
ground cinnamon, to taste [optional but delicious!]
fresh or dried parsley, to garnish [optional]
Instructions
Pre-heat oven to 400 degrees F.
Lightly drizzle or spritz a baking sheet with olive oil.
Add cubed squash to the sheet along with another drizzle of olive oil.
Sprinkle with a light layer of salt, pepper, and garlic powder, based on taste preference.
Roast at 400 F for 25 minutes on the center rack.
At the 25 minute mark, pull out the oven rack, and add your fresh cranberries to the roasting pan.
Return to the oven for 10-15 minutes or until the cranberries have started to soften and burst a bit, resembling really juicy craisins vs fresh firm cranberries.
Remove from oven and add a sprinkle of cinnamon [approx 1/8-1/4 tsp depending on preference] along with feta and honey. I listed the honey measurements I used, but depending on whether you used fresh cranberries or dried, sweeten to taste.
Garnish with parsley for a burst of color and dig in while it's hot!
And for desert!
I make these every year, not only because they are sooo delicious but because they are possibly the easiest cookies you will ever make!
2 INGREDIENT PUMPKIN SPICE COOKIES 
Ingredients
1 can pumpkin pure
1 box of Spice Cake Mix
….yep, that's it!
Instructions
Preheat oven to 400, and cook for 20mins or until you can stick a toothpick in the middle of a cookie and it comes out dry. You could also put these into muffin tins to make muffins OR a loaf pan to make one big loaf of deliciousness.
Oh and if you want, I top mine with a little cream cheese icing…and some cinnamon sprinkle if you like. You're welcome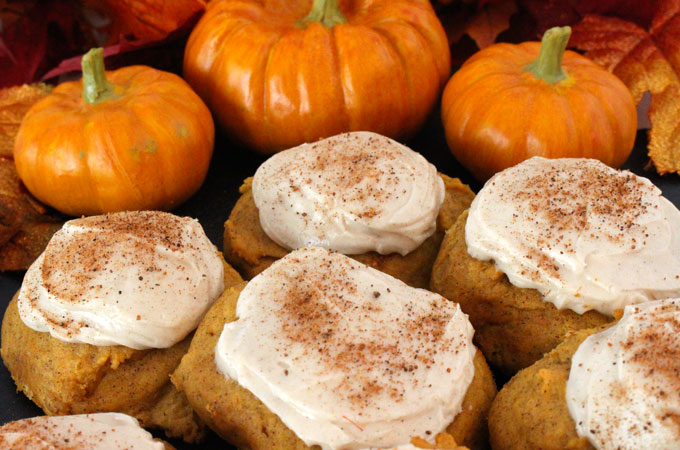 Peace, Love and SimplyB Thankful!
Have a great weekend full of love, gratitude and good food.
xo